Invisalign – Dayville, CT
Take Back Your Freedom with Removable Trays!
When you have traditional metal braces, you're forced to accommodate your newly fixed oral appliance and make changes to your oral care routine and diet. However, if you have a more mild orthodontic issue to resolve, Invisalign's clear aligner series is perfect for those looking for a bit more freedom throughout the day. Invisalign has helped millions of patients straighten their smile, so don't wait to call Simply Orthodontics Dayville for your first consultation to discuss smile alignment with Invisalign in Dayville, CT!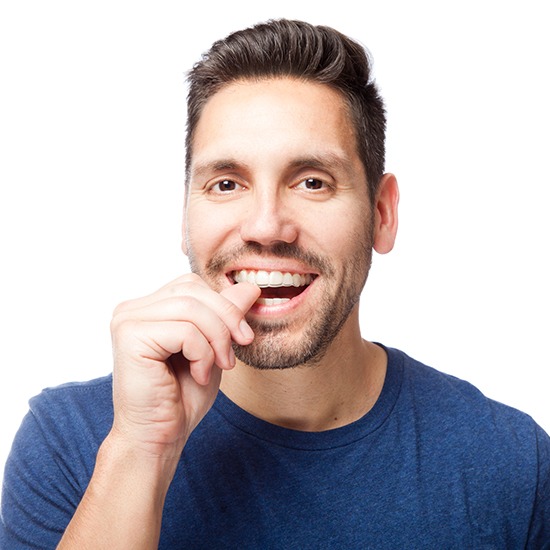 How Does Invisalign Treatment Work?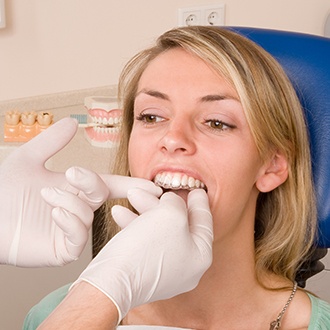 Shifting teeth with Invisalign requires patients to wear a series of trays over the course of several months. Each pair represents a specific step of your treatment and is worn for at least 22 hours per day, allowing your teeth to slowly and gently shift into new positions. You'll need to wear a retainer after you complete your series, which prevents any potential relapses from occurring. This will also keep your teeth straight for many years to come. Since the entire series is made from the start, you also won't have to visit the orthodontic office as often for checkups.
What is the Treatment Like Daily?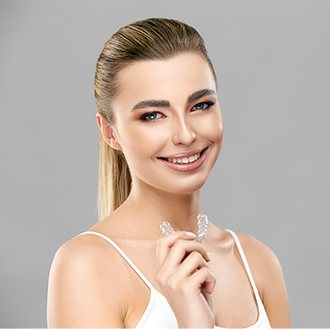 It's very important that you wear the aligners for a specific period of time each day. While the absolute minimum is 20 hours per day, it's better to wear them for at least 22 hours daily as this will help maximize your results. Wearing them is what allows the teeth to shift on schedule and reach a straighter position. All aligners are removable, which means you can eat the same foods you've always enjoyed and you don't have to adjust your brushing or flossing, which is not the case for fixed orthodontics like braces. However, you will need to keep the aligners clean so they remain transparent and keep them in their protective case when not in use.
Am I the Right Candidate for Invisalign?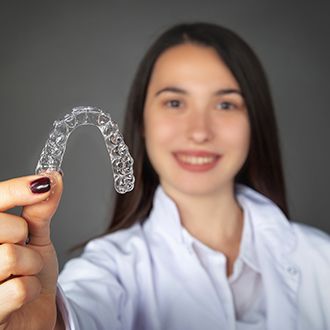 Invisalign treatment may not be the best treatment for you if you have a very severe case of misalignment or a badly uneven bite. Furthermore, if you have back teeth that are crooked, they will not get the same results as what you'd find with traditional braces. Lastly, you should only consider Invisalign if your permanent teeth are erupted, which is why children are often not able to receive clear aligners. It can be used for teenagers since their teeth are not still growing and developing. If you find it difficult to wear the aligners daily and cannot wear them for the required amount of time, a fixed option may be more appropriate.
Understanding the Cost of Invisalign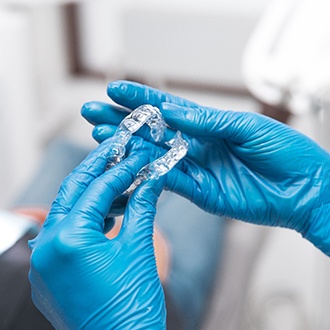 Are you curious about the cost of Invisalign in Dayville? The good news is that getting an estimate is as simple as scheduling an appointment with our team! Searching online may seem like a good idea, but since each treatment plan is unique, there's a good chance you won't find the answer you're looking for. The good news is that you can learn a bit more about the factors that impact the price right here.
Factors That Affect the Cost of Invisalign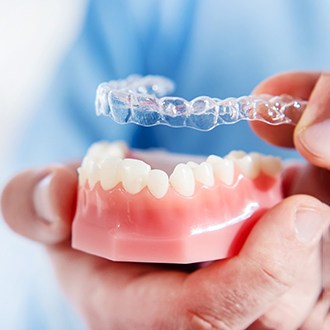 As mentioned above, each Invisalign treatment plan is unique. After all, no two smiles are exactly the same! To provide you with a price estimate, our Dayville orthodontist will take a look at the position of your teeth and your bite to determine:
The severity of your misalignment
How many trays are needed to achieve your smile goals
If additional accessories are needed, like rubber bands
If you need to straighten both arches of teeth
These factors will influence the initial price estimate. It's worth noting that you'll need to invest more time and money into Invisalign if you fall off-track with your original treatment plan. For example, if you neglect to wear your aligners for 22 hours a day, causing your teeth not to track, then your orthodontist may need to request additional aligners. This is just one of the many reasons why it's so important to follow all of your treatment guidelines!
Invisalign vs. Smile Direct Club™: Which Costs More?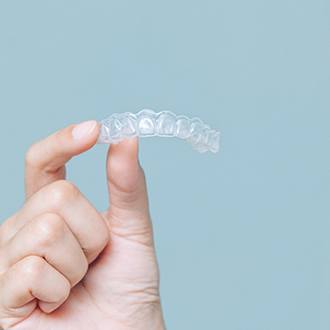 Smile Direct Club™ and other DIY orthodontic companies advertise a $2,000 starting price, which is definitely lower than Invisalign. However, it's important to keep a big picture perspective when analyzing the cost. While Invisalign includes a thorough evaluation, supervision from a licensed dental professional, and routine check-in visits, DIY alternatives don't consider the condition of your oral health, don't provide you anywhere to turn if something goes wrong, and have countless patients that experienced worsened alignment. In short, it's not worth gambling on your smile, especially since many patients who opt for DIY orthodontic companies end up using Invisalign in the long run.
Does Dental Insurance Cover Invisalign?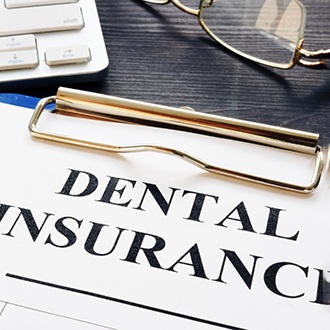 If you're currently insured, then it's worth double-checking if your provider covers a portion of the cost of Invisalign in Dayville. Having trouble understanding your benefits? Don't worry – we can help. Our team is proud to work with Guardian, Humana, MetLife, and other popular providers.
Options for Making Invisalign Affordable
If you don't have insurance, that's okay too! That doesn't automatically mean that getting Invisalign is out of your budget. In fact, there are financial options that are designed to fit the treatment you desire into your monthly budget, like LendingPoint. To learn more about this solution, reach out to our team.
Invisalign Frequently Asked Questions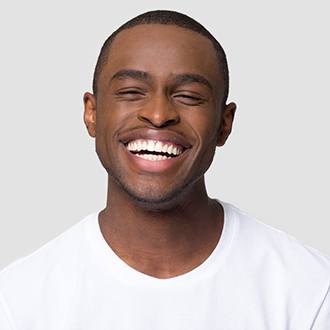 When straightening your smile with Invisalign, you can take back your freedom with removable trays! This revolutionary orthodontic treatment is completely different than traditional metal braces, so it's natural to have a few questions about it. For your convenience, we've gathered a few Invisalign FAQs below so you can learn more. If you don't see the answers you're looking for, give us a call and we'll be more than happy to help!
Does Wearing Invisalign Aligners Hurt?
Traditional metal braces are a reliable orthodontic treatment, but their wires and brackets can irritate the lips, cheeks, and tongue. With Invisalign aligners, you can expect a much more comfortable experience! Each one is crafted from a single piece of smooth, biocompatible plastic, allowing them to glide past your soft tissues instead of scratching them.
However, it's normal to feel a little soreness in your teeth when first starting a new set of aligners. Thankfully, any discomfort you feel shouldn't last for very long. If you need to, you can easily manage your symptoms by taking over-the-counter pain relievers, applying an ice pack, or starting each new set of aligners right before bed.
How Are Invisalign Aligners Cared for?
The removable nature of Invisalign aligners makes them easy to care for with a few simple habits:
Don't use your normal toothbrush and toothpaste to clean your aligners—instead, soak them regularly, use an ultra-soft bristled toothbrush, and clean them with whatever gentle toothpaste or cleaning solution your dentist recommends for you.
Rinse off your aligners every time you take them out to prevent saliva, plaque, and bacteria from drying out and hardening on them.
Protect your aligners from discoloration by brushing your teeth before putting your aligners back in after eating.
Do I Have to Avoid Certain Foods During My Invisalign Treatment?
Unlike traditional braces that require you to adhere to certain dietary restrictions, you are free to eat and drink whatever you like during your Invisalign treatment! Simply remove your aligners, enjoy your meal or beverage, then give your teeth a quick brush before popping your aligners back into place. As long as you follow this pattern and practice great oral hygiene, you can continue to enjoy popcorn, apples, and anything else on your plate.
Remember, eating or drinking anything besides plain water with your aligners in can warp, weaken, or break them, so you should always take them out!
Can I Get Invisalign If I've Had Metal Braces Before?
Did you complete a traditional orthodontic treatment years ago, but find that your teeth have shifted out of place again? This is a common occurrence for patients who neglected to wear their retainers to maintain their results. In most cases, mild changes in bite and teeth alignment can be treated by Invisalign. However, every case is different. During your initial consultation, we'll closely inspect your mouth and jaw to determine which orthodontic treatment will best help you achieve the straighter, healthier smile you deserve.
If you're ready to start your journey towards a straighter smile or if you have more questions about Invisalign, don't hesitate to give us a call and we'll be more than happy to help!