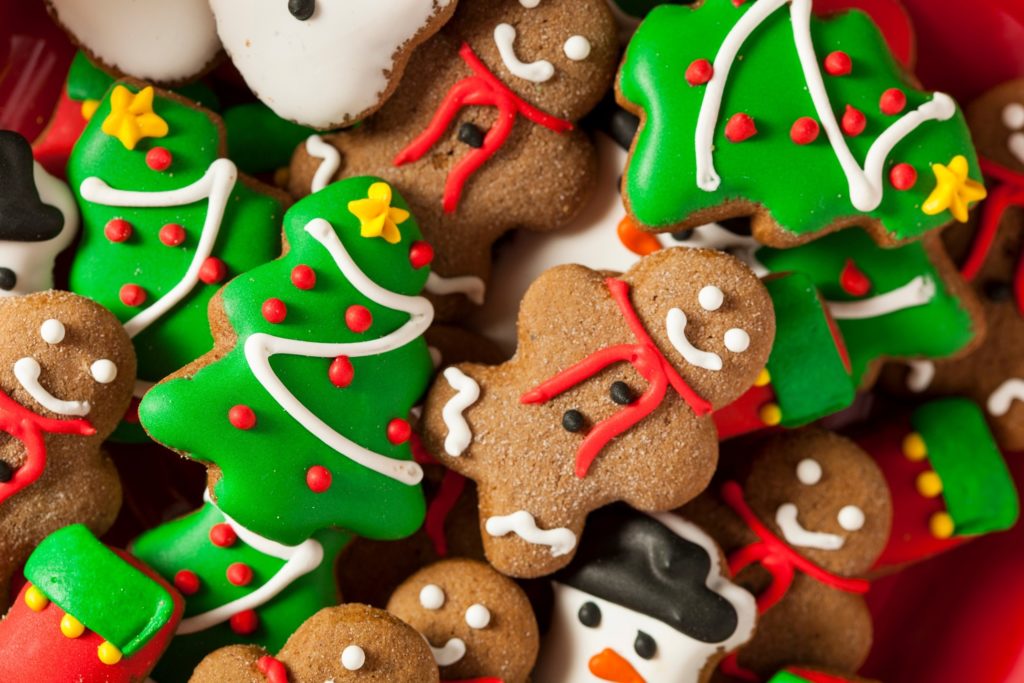 Is one of your favorite parts of the holidays all of the delicious foods? Good news: there are plenty of options that your taste buds and your orthodontist will approve of! Instead of indulging in peppermint bark, candy canes, chocolate-covered pretzels, and the like, try these braces-friendly foods.
1. Gingerbread Smoothie
Want something sweet, festive, healthy, and a perfect addition to any meal? Then try this gingerbread smoothie:
What You'll Need:
1 cup of milk (or milk alternative)
1 teaspoon of molasses or maple syrup
1 small frozen banana
1 scoop of vanilla protein powder
1/3 cup of vanilla yogurt
½ teaspoon of ground ginger
½ teaspoon of ground cinnamon
Toppings of choice, like whipped cream or crumbled gingersnaps
What To Do:
Place all of the ingredients (except the toppings) in a blender and combine until smooth. Then, add your garnishes of choice and enjoy!
2. Festive Sugar Cookies
What would the holidays be without sugar cookies? Here's a simple and braces-friendly recipe:
What You'll Need:
2 ½ cups flour
¾ teaspoon baking soda
1 teaspoon baking powder
1 cup softened butter
1 ¼ cups white sugar
3 egg yolks
1 teaspoon vanilla extract
¼ cup granulated sugar for rolling
What To Do:
Set your oven to 350 degrees. Next, mix the flour, baking soda, and baking powder. In a separate bowl, cream together the butter and sugar with an electric mixer. Once combined, mix in the egg yolks and vanilla extract. From there, add the flour mixture (don't over-mix!). Roll about 2 tablespoons of the mixture into a ball and add the sugar. Repeat until you've used all of the dough and place on a paper-covered cookie sheet. Bake for about 17 minutes (the tops of the cookies should begin to crack). Remove from the oven and let sit for five minutes before transferring to a cooling rack.
3. Slow Cooker Buttery Garlic Herb Mashed Potatoes
Mashed potatoes are ideal for patients with braces because they are both delicious and soft! Here's what you'll need to add this delicious dish to your holiday festivities:
What You'll Need:
2 pounds red potatoes (washed and chopped into 2-inch pieces)
4 tablespoons butter
1/2 cup sour cream (or plain Greek yogurt)
1 tablespoon minced garlic
1 tablespoon finely chopped fresh parsley
1/2 teaspoon dried or fresh basil
1/4 teaspoon dried oregano
2 teaspoons salt
1 teaspoon pepper
1/4 cup milk
What To Do:
First, grease a slow cooker and add chopped potatoes. Cover and cook on high for 2-3 hours or on low for 5-6 hours. Once they are fork-tender, add the remaining ingredients and use a hand mixer to mash the potatoes.
About the Practice
Our team at Simply Orthodontics wants you to enjoy the most wonderful time of the year to the fullest without compromising your orthodontic treatment. That's why we share all of our holiday-related tips, including which foods you should and shouldn't indulge in. If you want to learn more about how to prevent an orthodontic emergency or you'd like to schedule an appointment, don't hesitate to visit our website or call (860) 774-2008.