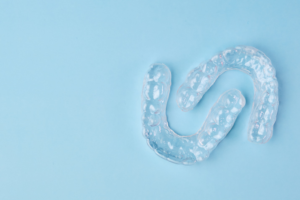 When it comes to straightening smiles, there are now several different means and methods of going about it—and these options include mail-order clear aligners. Similar to professional clear aligner trays that you'd get from your orthodontist, they're designed to straighten teeth in a subtle manner. But are they really as effective or trustworthy as they claim? Here's why you should steer clear of these options and opt for visiting a professional for your orthodontic needs.
No Comprehensive Examination Beforehand
Your orthodontist does so much more than merely help you straighten your teeth; they also identify and treat serious oral health concerns before braces or aligners even become an option. Serious issues like gum disease and cavities are easy to overlook at home on your own—but your orthodontist has several years of experience in identifying these types of problems and ensuring that they're treated before you start your orthodontic journey. To attempt any sort of tooth movement before undergoing a professional cosmetic examination is risky! It's also worth mentioning that clear aligner therapy simply isn't for every patient; your orthodontist is the only one qualified to clear you for the process, regardless of what any creative marketing or packaging might lead you to believe!
Lack of Professional Supervision
Another danger of mail-order aligners is the lack of supervision during the treatment itself; a huge part of orthodontic treatment is allowing your provider to adapt and make adjustments as needed. Sometimes teeth are stubborn and don't move or interact as intended—and mail-order options simply cannot account for this! These routine checkups don't just ensure your teeth are moving as intended, though; they also serve a dual purpose and allow your orthodontist to double-check that your smile isn't being plagued by nasty oral health issues.
Potential for Lackluster or Worsened Results
There is a very real possibility that using mail-order aligners can lead to serious problems for your smile's health and beauty. This is because mail-order aligners rely on one-size-fits-all trays that simply don't fit everyone well! This can lead to teeth sustaining damage, cuts in gums, and the inability to close your mouth or bite properly. It would be a true shame to attempt to straighten your teeth and end up with even worsened results—which is why you should let your orthodontist handle the task!
Even though mail-order aligners might seem more convenient and easier to opt for, it's crucial to remember that you're getting what you pay for and that these products simply can't match what a professional can offer. If you're ready to straighten your smile discreetly and safely, don't hesitate to let them know so they can help you out!
About the Practice
Here at Simply Orthodontics Dayville, we pride ourselves on being able to provide an exceptional level of orthodontic care! You don't have to settle for mail-order clear aligners when we offer some of the best professional treatments around. If you have any questions about our orthodontic treatment options, give us a call today or visit our website for additional information! Telephone: (860) 590-8497.